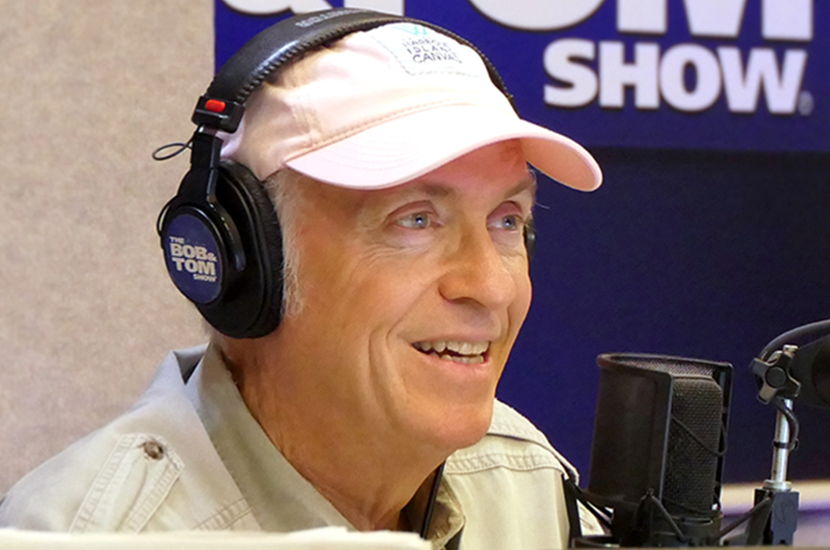 Show Host
Tom Griswold has become one of the most recognized names in radio – or as his staff refers to him, "the name on the hat." Tom stumbled into a bar one evening in Petoskey, MI, and started chatting with the bartender, Bob Kevoian. That chance meeting would spark the birth of The BOB & TOM Show.
From there, the world got to know Tom as the Ivy League educated neurotic that always has an opinion and retort at the ready. Tom leads the room each morning during the four-hour show. He's also one of the best at conducting interviews with any well-known public figure.
For decades, Tom has entertained millions by just being him. Born in Cleveland, Tom went to Columbia University in New York City earning a degree in English Literature.
He is the father of seven children. Two of his sons (Sam and Willie) followed in his footsteps of comedy writing/stand-up and now work for the show.
In his free time, Tom loves being with his family and two golden retrievers. When not at home, he looks forward to hosting various charity events.
Speaking Points
Radio Hall of Fame Morning Show Host
National Talent/Trusted Voice
Business Owner (Great B2B)
Family Man/Gives Back to the Community
Auto/SUV (Owns Multiple Vehicles, including a Chevy Suburban)
Financial/Homeowner Categories
Download Tom's Bio
Tom's Commercial Examples


The gang chimes in about the importance of Gutters – and laughs at Josh....LISTEN
Tom Griswold went to Dr. Lanter years ago and continues to endorse laser eye corrective surgery. This was a pre-recorded live with the cast chiming in....LISTEN
Tom's always been an SUV guy. He's owned several Chevy Suburbans over the years and still drives one today because they're perfect for the family with kids. Several markets have had success using Tom for AUTO DEALER endorsements....LISTEN